Clarity and Connection (CD-Audio)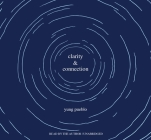 $24.99

Available to Order - shipping times vary
Description
---
From the celebrated author of Inward comes a new collection of poetry and short prose that illuminates how past wounds impact our present relationships.

In Clarity and Connection, Yung Pueblo explores how intense emotions accumulate in our subconscious and condition us to act and react the ways we do. With his distinctive voice, at once spare and evocative, the author guides us through the excavation and release of the past that is required for growth. On the topic of intimate relationships, he reflects:

find a partner who accepts you as you are but also inspires you to evolve because they take their own growth seriously. love will not seek to change you. it will embrace you so unconditionally that you will feel safe enough to heal the old and put effort into the new. the courage you both have to stay committed to the inner journey will reflect brightly on your relationship.

An unabridged audiobook, read by the author. This recording also includes a bonus audio interview with Yung Pueblo, in conversation with Tami Simon.
About the Author
---
Diego Perez is known by millions as Yung Pueblo, a pen name that means "young people" and is meant to convey that humanity is entering an era of remarkable growth and healing, when many will expand their self-awareness and release old burdens. His online presence and his books Inward and Clarity and Connection are meant to serve those undertaking their own journeys of personal transformation.

Diego was born in Ecuador and immigrated to the United States as a child. He grew up in Boston and attended Wesleyan University. During a silent vipassana meditation course in 2012, he saw that real healing and liberation were possible. He became more committed to his meditation practice while living in New York City. The results he witnessed firsthand moved him to describe his experiences in writing.

Today, Diego resides in western Massachusetts with his wife, where they live quietly and meditate daily. Learn more at yungpueblo.com.