The Boxcar Children Collection Volume 44 (Library Edition): The Boardwalk Mystery, Mystery of the Fallen Treasure, The Return of the Graveyard Ghost (CD-Audio)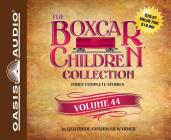 Description
---
The Gymnastics Mystery:
 It's summer at the shore, but someone wants to put a stop to all the fun! Who's ruining the rides at the amusement pier? The Aldens are on the case...
The Poison Frog Mystery: A backpack full of jewels has fallen out of a plane! Was it just an accident? The Boxcar Children need to find out what happened!

The Mystery of the Empty Safe: Can visiting a gravesite bring bad luck? The Boxcar Children explore the local cemetery's secrets to discover the truth behind an old legend!
About the Author
---
Gertrude Chandler Warner was born in Putnam, Connecticut, on April 16, 1890, to Edgar and Jane Warner. Her family included a sister, Frances, and a brother, John. From the age of five, she dreamed of becoming an author. She wrote stories for her Grandfather Carpenter, and each Christmas she gave him one of these stories as a gift. Today, Ms. Warner is best remembered as the author of The Boxcar Children Mysteries.