What Shall We Play Now? (Hardcover)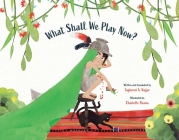 $18.95

Available for Pre-Order Now
Description
---
A fun picture book about the power of imagination from an award-winning female author and pioneer of children's literature in the Arab world.

Just imagine all the things you can do with a green piece of cloth. Will you turn it into the sail of a pirate ship or into a small tent? Just imagine. Will you turn it into a beautiful butterfly that will fly from one flower to another or into a super heroine that will protect everybody from evil? Just imagine…

Raya and Samar just imagine and have great fun playing with a green piece of cloth. This delightful picture book from the Middle East celebrates the imagination and creativity of children.
About the Author
---
Taghreed A. Najjar is a pioneer of modern children's literature in the Arab world. She is a 2019 nominee for the Astrid Lindgren award and a several-time winner of the Etisalat Prize for Arabic Children's Literature. The Ghoul (Interlink 2020) was selected as Kirkus Reviews Best Children's Book 2020 and was on Chicago Public Library's Best of the Best List.

Charlotte Shama is a French illustrator, married to a Palestinian, and has been living in the Middle East with her family and pens for many years now. After studying applied arts and animation in France and England, she worked as a volunteer in an Arabic-speaking school, a press photographer, a librarian, and an art teacher. Finally, Charlotte came back to her passion and settled happily on being a freelance illustrator.
Praise For…
---
"Cape, butterfly wings, hula skirt, tent—a piece of cloth 'soft as silk, green as grass, and cool as a breeze' fuels a day of imaginative play for two children in this lively picture book, first published in Arabic. 'With a flick and a click, in just a blink, with no magic stick,' pretend begins immediately after the child's seamstress mother passes on the textile … Shama's narrative illustrations expressively capture the way the item helps the children to envision entire worlds. Ages 3–8."
— Publishers Weekly