The Boxcar Children Collection Volume 8: The Animal Shelter Mystery, The Old Motel Mystery, The Mystery of the Hidden Painting (CD-Audio)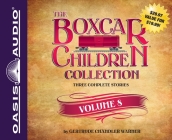 Description
---
The Animal Shelter Mystery: Strange things are happening in Greenfield where the Boxcar Children live. Stray cats and dogs appear on doorsteps, but the animal shelter is forced to close, and a nice old woman disappears. Henry, Jessie, Violet, and Benny are very worried about Mrs. Newcombe. Is she in danger? Who are the strange men lurking around her house? And what are they going to do with all the animals who need homes, including a little cat they call Patches?

The Old Motel Mystery: Aunt Jane takes the Aldens to stay with her friend, Kay, who owns an old, shabby motel in Florida. Kay is ready to sell the motel, when the children offer to help fix it up and put it back in business. But they soon learn that someone is trying to make sure it stays out of business . . . forever.

The Mystery of the Hidden Painting: The Aldens find a mysterious painting hidden in the attic. The children learn that it is a portrait of their grandmother, whom they never knew, wearing the necklace Grandfather gave her when they were married. The necklace disappeared on their first anniversary — and was never found. Can the Boxcar Children track down a necklace missing for so many years?
About the Author
---
The Boxcar Children Series was created by Gertrude Chandler Warner, a teacher, when she realized that there were few, if any, books for children that were both easy and fun to read. She drew on her own experiences in writing the mysteries. As a child, she had spent hours watching trains near her home, and often dreamed about what it would be like to live in a caboose or freight car. In each story, she chose a special setting and introduced unpredictable, unusual or eccentric characters, to help highlight the Aldens' independence and resourcefulness. Miss Warner lived in Putnam, Massachusetts until her death in 1979.