The Boxcar Children Collection Volume 43: Monkey Trouble, The Zombie Project, The Great Turkey Heist (CD-Audio)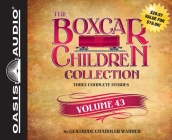 $19.99
Email or call for price.
Description
---
Monkey Trouble: It's spring, and all the baby animals are being born — a perfect time to visit the zoo. The Aldens and their friends are taking pictures there for a photo contest. But when cameras go missing and a girl is accused of cheating, the Boxcar Children must find out just who is monkeying with the contest! The Zombie Project: While staying at the Winding River Lodge, the Aldens hear an old legend about a zombie who lives in the forest! Everyone knows zombies aren't real — but when Benny sees a strange figure lurching through the woods, the Boxcar Children begin to wonder if the old legend is true after all! The Great Turkey Heist: There's going to be a free Thanksgiving dinner for the whole town of Greenfield — except the turkey is missing! The Aldens are helping out at a new food pantry, collecting donations and putting up signs. But someone keeps moving the signs, and when the main course for the big town dinner disappears, the Boxcar Children have a mystery to solve!
About the Author
---
The Boxcar Children Series was created by Gertrude Chandler Warner, a teacher, when she realized that there were few, if any, books for children that were both easy and fun to read. She drew on her own experiences in writing the mysteries. As a child, she had spent hours watching trains near her home, and often dreamed about what it would be like to live in a caboose or freight car. In each story, she chose a special setting and introduced unpredictable, unusual or eccentric characters, to help highlight the Aldens' independence and resourcefulness. Miss Warner lived in Putnam, Massachusetts until her death in 1979.