The Boxcar Children Collection Volume 3: The Woodshed Mystery, The Lighthouse Mystery, Mountain Top Mystery (CD-Audio)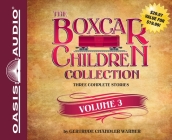 Description
---
The Woodshed Mystery: The Alden children are staying at the New England farmhouse where their grandfather grew up. There are many stories and legends about the old farm, and there's a woodshed near the house that holds a surprising secret... a secret that dates all the way back to the Revolutionary War!
The Lighthouse Mystery: When the Aldens take a summer trip to the New England coast, they have a fun place to stay: a lighthouse! But strange things happen after it gets dark — an unknown woman is seen walking around, and Watch, the Aldens' dog, wakes up growling late at night. Can the Boxcar Children shed light on a seaside mystery?
Mountain Top Mystery: The Aldens climb a mountain and find a mystery! The hike up Old Flat Top was only supposed to take a day, but a dangerous rockslide changes everything and reveals a hidden cave that just may hold a legendary treasure!
About the Author
---
The Boxcar Children Series was created by Gertrude Chandler Warner, a teacher, when she realized that there were few, if any, books for children that were both easy and fun to read. She drew on her own experiences in writing the mysteries. As a child, she had spent hours watching trains near her home, and often dreamed about what it would be like to live in a caboose or freight car. In each story, she chose a special setting and introduced unpredictable, unusual or eccentric characters, to help highlight the Aldens' independence and resourcefulness. Miss Warner lived in Putnam, Massachusetts until her death in 1979.