The Boxcar Children Collection Volume 20 (Library Edition): The Mystery at the Alamo, The Outer Space Mystery, The Soccer Mystery (CD-Audio)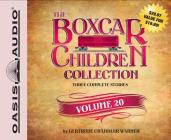 Description
---
The Mystery at the Alamo:
 The Aldens are visiting the Alamo with their grandfather. They arrive at the Alamo to find that a movie is being made there — and they are going to be init. But then things start to go wrong on the movie set, and a priceless ring from the Alamo Museum disappears. Are the two things connected? It is up to the Boxcar Children to solve this new puzzle!
The Outer Space Mystery:The Boxcar Children are going to college! That is, they are going to Mountvale College to help Grandfather at a convention of young astronomers. The Aldens learn many interesting things, and get to look at the stars and planets through a telescope at the observatory. But then some valuable information disappears — along with one of the students at the convention. What's going on? It's another mystery for the Boxcar Children!

The Soccer Mystery: The Aldens are all on the same soccer team, and know that winning isn't as important as having fun. But is someone trying to ruin the soccer league? Practice balls get deflated, a goalie's gloves are ruined, and a player is locked in the locker room during an important game. What's going on?
About the Author
---
The Boxcar Children Series was created by Gertrude Chandler Warner, a teacher, when she realized that there were few, if any, books for children that were both easy and fun to read. She drew on her own experiences in writing the mysteries. As a child, she had spent hours watching trains near her home, and often dreamed about what it would be like to live in a caboose or freight car. In each story, she chose a special setting and introduced unpredictable, unusual or eccentric characters, to help highlight the Aldens' independence and resourcefulness. Miss Warner lived in Putnam, Massachusetts until her death in 1979.