Butterfly Colors and Counting (Jerry Pallotta's Counting Books) (Board book)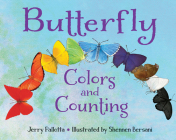 $5.95

Available to Order - shipping times vary
Description
---
Learn to count to ten along with the colors of the rainbow in this lovely first concept book for the smallest butterfly lovers.

From one red Tachyris zarinda to 10 pink-tipped clearwinged satyrs, Jerry Pallotta's simple text introduces a range of butterfly species. Shennen Bersani's realistic and colorful art flutters with the turning of each page.

Butterfly Colors and Counting is a perfect companion to Pallotta's three previous board books, The Icky Bug Counting Board Book, The Icky Bug Alphabet Board Book, and The Ocean Alphabet Board Book. Little hands will enjoy browsing this book on their own—and learning colors and numbers along the way.
About the Author
---
Jerry Pallotta is an award-winning author of children's alphabet books and imaginative fiction. His books combine interesting facts, detailed research, humor, and realistic illustrations that mesmerize children everywhere.