The Magic School Bus Presents: The Human Body: A Nonfiction Companion to the Original Magic School Bus Series (Paperback)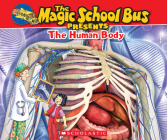 $6.99
Available to Order - shipping times vary
Description
---
THE MAGIC SCHOOL BUS PRESENTS THE HUMAN BODY is a photographic nonfiction companion book to the original bestselling title, THE MAGIC SCHOOL BUS INSIDE THE HUMAN BODY.
INSIDE THE HUMAN BODY taught thousands of kids about the incredible systems that work together to make the human body function. what makes us who we are. MAGIC SCHOOL BUS PRESENTS THE HUMAN BODY will expand upon the original title with fresh, updated Common Core-aligned content about our amazing bodies. With vivid full-color photographs on each page and illustrations of the beloved Ms. Frizzle and her students, the Magic School Bus Presents series will enthrall a whole new generation of Magic School Bus readers.

Don't miss the all-new Magic School Bus: Rides Again book series and the animated show streaming on Netflix now!
About the Author
---
Dan Green studied natural sciences at the University of Cambridge. He has worked on many popular science titles, written humor books, edited a South American national newspaper, and worked as a travel writer, as well as developing and editing the wildly successful Horrible Science magazine collection.